News & Events
This is where all the celebrations and exciting events take place.
You will be kept up to date of any upcoming trips for your year group or Key stage. You will also be shown children who have been awarded Super Stars & Reading Awards, along with and events your child may be attending.
RECENT EVENTS
Remembrance Parade
On Sunday 8th November some of the children and staff took part in a Remembrance Parade in Heath Hayes. It was a good turn out with lots of the children wearing poppies and grandparents medals.
Steel Pan Band - Concert
Mr Baugh invited all the children who play in the school steel pan band to attend a concert along with four other schools he works with. The children were amazing, playing in front of a large audience and showing off their talents. They really did us proud.
OAK class (YR) visit to Rodbaston
The children in Oak class had a fantastic time at Rodbaston farm, meeting the farm animals and getting to handle the new chicks and bunnies.
HAZEL & SYCAMORE (Yr3 & Yr4) visit to Pooles Cavern
The children took a long tiring walk up the mountain at Pooles cavern. Not stopping for any breaks. They then explored the mysterious limestones caverns, seeing how the crystal stalactites and stalagmites have lined the chambers over millions of years.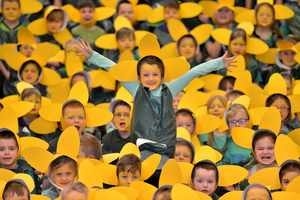 The whole school took part in a fancy dress daffodil day event to raise money for Marie Curie Cancer Fund. Children wore green t-shirts, black trousers and painted their faces yellow, wearing a daffodil hat.
From sponsorships and fundraising, the school has managed to raise £800 for Marie Curie which cares for people with any terminal illness including those with cancer, heart failure, dementia & chronic obstructive airway disease.
Headteacher, Becky Graham, said: "It was a fantastic day which everyone thoroughly enjoyed, and the children gained a lot from the whole experience. It is essential for them to see a wider world and experiences like this begins to encourage children that there is more to life than just 'me'.
"There were three parents that worked tirelessly to create the outfits and we're very lucky to have such dedicated parents within the school's community."
The attempt was part of a pilot scheme, called Try5, which was introduced by a growing charitable organisation REAch2 Academy Trust who currently support Heath Hayes Academy as well as 34 other primary academies across England.
Try5 is made to create experiences for children below the age of 11 before they leave Primary to start Secondary School and the record breaker was one of three exciting challenges the students will be involved over the Spring term.
Mrs Graham added: "We were challenged to make or break a REAch2 record but we wanted to go one step further and attempt to set a world record. Unfortunately, we won't find out from Guinness World Records whether we achieved it for another two-and-a-half months yet but we're very confident that we will."
FRANCE TRIP
Thirty pupils from Years 4, 5 and 6 along with four staff members travelled to Paris for a five day trip. The experience is one of REAch2's Try5 events. The children visited Disney Land Paris, Ice-skated on the top of the Eiffel Tower, and lots more fun things.